ISO 27001 Certification Consultancy – West London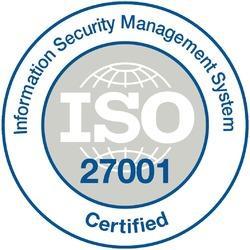 Have you thought of ISO 27001 Certification processing for your business? – West London based Information Security Company, Securedtech will help your organization to achieve ISO 27001 certification to place ahead of the crowd. We believe you need ISO/IEC standard to enhance your company profile to a higher level.
Information Security Management System (ISMS) is a business enabler.
Why ISO 27001 Certification?
Fines for personal data breaches are on the increase. We believe businesses need to ensure compliance with legislative requirements, such as the UK Data Protection Act
Customer data information breach, potentially damages your reputation, which will means loss of customers and hence loss of revenue.
ISO 27001 increases customer's confidence in your organizations ability to manage information security risks, making customer data available to those authorized, with integrity and confidentiality.
We are witnessing the difficulty to respond to rising customer expectations in relation to the security of their information in timely manner is a serious concern for your business. How ISO/IEC 27001 helps
ISO 27001 Certification provides a framework for the management of information security risks, which ensures you take into account your legal and regulatory requirements.
It enables you to identify risks to your information and put in place security measures to manage or reduce before they get out of hand. ISO 27001 certification ensures you implement procedures to enable prompt detection of security breaches
ISO/IEC standard is based around continual improvement, and requires you to regularly review the effectiveness of your information security management system (ISMS) and take action to address new and emerging information security risks
It supports compliance with relevant laws and regulations. Reduces likelihood of facing prosecution and fines
 and helps you gain status as a preferred supplier
ISO 27001 Certification and it's advantages for your business
Provides reassurance to your clients that their information is secure by demonstrates credibility and trust.
It also increases your ability to recover your operations and continue business as usual

Your customers require availability of vital information at all times

ISO27001 enables you to ensures that authorized users and systems have access to information at the time they need it

It demonstrates that information security is a priority, whilst reassuring stakeholders that a best practice system is in place and makes sure you continually improve your information security. This in turn demonstrates credibility and trust.

An effective implementation of ISO/IEC 27001 information security management systems (ISMS) to protect organizations from risk.
Lack of confidence in your organizations ability to manage information security risks can be addressed by getting ISO 27001 certified. It provides a way of ensuring that a common set of policies procedures and controls are in place to manage risks to customer information security. The certification gives your organization a straightforward way for responding to requirements around information governance.
Having ISO 27001 certification boasts your company profile and enables to meet customer and tender requirements and reduces third party scrutiny of your information security requirements.
We're not just an IT security provider, we're your IT business partner …
To discuss about your ISO 27001 Certification, call us on 020 37008580
Free Security Assesment
We offer a free comprehensive Security assessment in 16 areas of vulnerability so, that the problem is approached head on to save our clients time and money.
SecuredTech Ltd takes your privacy seriously. We won't share your details with third parties. If you choose not to receive our latest Cyber security news you can unsubscribe at any point.